If our products represent the body of our business, the Service Department is the "backbone". All service personnel at Fayetteville Billiard Supply are highly skilled professionals certified by the top billiard manufacturers. Our reputation for excellent service is responsible for the success and growth of Fayetteville Billiard Supply.
Our services include: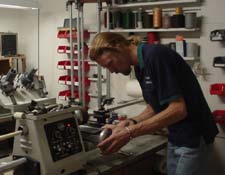 1. Installation of new billiard tables
2. Disassembling tables, moving to new locations and reassembling.
3. Re-Covering and leveling tables
4. Cue Repair
(1) Re-tipping
(2) Ferrule installation
(3) Re-wrapping
(4) Shaft cleaning & polishing
5. Advice on billiard equipment & play, darting, foosball, air hockey and other indoor recreational games.

MEET THE STAFF
Patrick Patterson (shown above), Service Manager and Cue Repair Specialist, has been with the company since 1984. Whether its covering a table top or putting on a new cue wrap, Patrick gives first-class results.
| | |
| --- | --- |
| | Joe Parker, Sales Manager, has been with Fayetteville Billiard Supply since 1989. He retired from the military, but not from the work force. The daily operation and scheduling is in his capable hands. |
Karon Hall, Sales Representative and Billiard Instructor, has been associated with Fayetteville Billiard Supply since 1994. Personable and fun, Karon is happiest when assisting with cue selection and billiard conversation.

Kevin Barnes is the newest member of the Fayetteville Billiard Supply team. He joined us in 2005 and has proven to be a very positive addition. Prior to entering the indoor recreation field his interest was in horticulture. Now instead of enhancing the outside of homes he has turned that same endeavor to improving the interior. His attention to detail makes him a natural for assembly and precision. While, not a big talker he is a big worker and this attitude has made him invaluable to the Fayetteville Billiard Supply family.